[page_hero after_head="after-head" height="300″ hero_image="2079″]
DO YOU EVER FEEL YOUR LEADERSHIP TEAM NEEDS MORE FLEXIBLE COACHING, AVAILABLE AS SOON AS THE ISSUES ARISE?
Leaders, these days, don't always have time for a full hour of coaching. They need more flexibility around their schedule. In addition, they need ideas now! Waiting for the next coaching session is often too long when they have a burning topic to untangle.
As an organisation, you invest in recurrent coaching agreements when in reality, your leaders might require more support one month and less in the next. What if you could share those hours amongst your leadership team?
What clients say about coaching:
[count_up text="of companies made back at least their investment" number="86%"]
[count_up text="of clients would repeat the process" number="96%"]
[count_up text="of companies saw a return of investment above 49x" number="19%"]
[count_up text="improved work performance" number="70%"]
(8 slots of 15 minutes monthly, shared across the team)
(16 slots of 15 minutes monthly shared across the team)
(24 slots of 15 minutes monthly shared across the team)
Unlimited sessions monthly
€ 1,990.00 per year and per person
What is the difference between Laser Coaching and 1:1 Coaching?
It is like going to the gym vs. hiring a personal trainer! 1:1 coaching is a long-term relationship going deeper on issues that are more about the person. Laser coaching lets you go deep into the problem itself and focus on immediate actions. None is better than the other, they just have different purposes!
Can we really have 15-minute coaching sessions?
You would be surprised how much can be achieved in 15 minutes. Whether operational or personal, about creating a shift or bringing clarity, many topics can be coached in 15 minutes…
What if someone joins/leaves my team?
Not a problem! That's the beauty of the team package, you are not subscribing per employee but per number of hours.
Can I transfer unused hours from one month to another?
Unfortunately, you cannot transfer hours. But if you need more hours in one month, just let me know and we'll find a solution!
For further information or to enquire how you can proceed forward, feel free to send us an email at contact@wearefutureminds.com.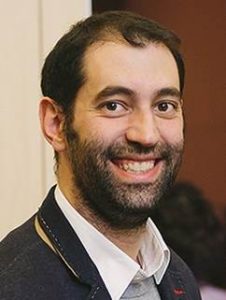 Julien is an experienced Leadership Coach specializing in resilience coaching and strengths coaching.
He consults with organisations and supports them in designing and implementing performance acceleration initiatives (Organisational culture and values, Leadership Development programmes, individual and group coaching…)
Julien is an Associate Certified Coach with the International Coach Federation and is a certified practitioner for MBTI™, EQi 2.0/EQ 360 and MTQ 48.