Overcoming Obstacles: Build Grit, Resilience And Mental Toughness
Equip yourself with the tools to use overwhelming force against your challenges, so you can conquer them and reach your goals.
Subscribe now and get the first lesson free plus some additional resources to get you started!
[signup_mailchimp form_url="https://wearefutureminds.us17.list-manage.com/subscribe/post?u=a3de72d3c279e9d02664994c0&id=d4bdda5f07″]
What's stopping you from reaching your goals?
In 20 lessons, this course teaches you proven strategies to get past whatever's holding you back.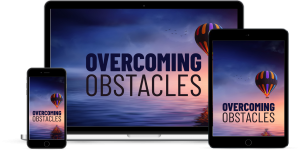 You'll learn how to:
Deal effectively with setbacks
Find the fastest solutions to your challenges
Draw from your creativity to find new solutions
Get through hopeless situations
Believe in yourself and your dreams even during tough times
Use failure to your advantage
Motivate yourself to do great things
Maintain enthusiasm in the face of adversity
Finish what you start
[signup_mailchimp form_url="https://wearefutureminds.us17.list-manage.com/subscribe/post?u=a3de72d3c279e9d02664994c0&id=d4bdda5f07″]